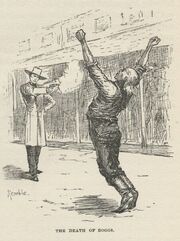 Colonel Sherburn
is a denizen of "a little one-horse town in a big bend" in Arkansas who appears in chapters 21 and 22 of
Adventures of Huckleberry Finn
. He is harassed by a drunken
Boggs
to whom he delivers an ultimatum to cease before one o'clock; Boggs persists, though, and Colonel Sherburn shoots him dead.
The town rallies in anger for a lynching of Sherburn, but, unfazed and still armed, he insults the entirety of their manner and they disperse.
Ad blocker interference detected!
Wikia is a free-to-use site that makes money from advertising. We have a modified experience for viewers using ad blockers

Wikia is not accessible if you've made further modifications. Remove the custom ad blocker rule(s) and the page will load as expected.